AUDIO VISUAL INTERATED SYSTEM
Users of today's collaborative meeting and classroom environments are faced with new technologies every day. TTIV's systems integration make those transitions easier, creating a seamless experience that meet of your audio visual presentation needs with a simple-to-operate, audiovisual system integrated system.
Audio Visual System
A professional audiovisual system is defined as: audio and video equipment installed into a room, and programmed to operate through one controller.
TTIV accommodates a complete Solution service, we have a unique ability in providing custom settings for your corporate. We are truly a one-stop resource for all your needs in audio-visual design for meeting room, class room and auditorium room or larger We have built our AV Team on a solid foundation of customized design and professional installation of systems from the most trusted names in the Digital audio visual such as Extron, Kramer, crestron . Our customers receive full service, support, and training from our experienced and educated staff. You can expect a presentation system that is tailored to meet your individual application and requirements. Our sales team and engineers will design solutions and recommend products that will fulfill our clients technology needs now and can support and complement additional technology in the future. Contact us today to begin planning an amazing experience for your corporate.
Basic of Smart control Solution
Lighting Control
Curtain control
Audio Video Multimedia Control
Security, Monitoring and Camera Surveillance, Alarm System
PA system
Intercom, Automatic Door
Communication system
User Interface for Control
Touch Screen desktop, wall mount and wireless
Control through Smart phone, tablet
Remote through wifi
Smart programming keypad
PA System
A public address system (PA system) is an electronic sound amplification and distribution system with a microphone, amplifier and loudspeakers, used to allow a person to address a large public, for example for announcements of movements at large and noisy air and rail terminals. PA systems are often used in small venues such as school auditoriums, churches, and small bars. PA systems with many speakers are widely used to make announcements in public, institutional and commercial buildings and locations. Intercom systems, installed in many buildings, have microphones in many rooms allowing the occupants to respond to announcements.
Specialized PA systems are available such as PA over IP (Ethernet), Long line public address system and Large Venue systems.
Depending on the application,each system can cater to simple to complex PA systems each with varying functionality depending on the application.
Digital signature
Digital Signage is method of content management and interactive displays on the LCD, LED, Plasma… instead of posters, banners, … Digital signage appears in public places, supermarkets, office buildings, hospitals, railway stations, airports, banks, stock exchange, real estate transaction center, museum, …
TTIV Solution allows the administrator to update various content displayed under Audio, Video, Graphic, Flash, HTML, Text, … then distributed to the endpoints (possibly immediately or in schedule). All activities at the endpoints can be managed from the command center and follow the directives of the center, there is no need to control directly at each point.
Digital Signature is a innovative solutions which is simple, efficient, and it centralizes all advertising contents displayed on LCD at all the times via the internet connected by ADSL, FTTH, WIFI, 3G …All content are managed and monitored remotely by a dedicated management software through the network. In addition, customers can interact directly the content and information through the touch screen interface.
IPTV
Internet Protocol television (IPTV) is a system through which television services are delivered using the Internet protocol suite over a packet-switched network such as a LAN or the Internet, instead of being delivered through traditional terrestrial, satellite signal, and cable television formats. Unlike downloaded media, IPTV offers the ability to stream the media in smaller batches, directly from the source. As a result, a client media player can begin playing the data (such as a movie) before the entire file has been transmitted. This is known as streaming media.
We integrated into IPTV services with three main groups:
Live television, with or without interactivity related to the current TV show;
Time-shifted television: catch-up TV (replays a TV show that was broadcast hours or days ago), start-over TV (replays the current TV show from its beginning);
Video on demand (VOD): browse a catalog of videos, not related to TV programming.
TTIV Audio Video Solutions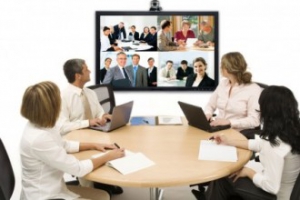 AV for Meeting Room
TTIV provide integrated AV solution perfect for online conference, online conferencing client. The solution provides the system displays at resolutions up to full HD, equipment layouts to suit any size of room feeling comfortable, pleasing to the viewer.
Lighting Control
Solution integrated control of  TTIV for online meeting will bring comfort beyond expectations when you will not have to go to each window to pull blinds every time online meeting, conference or presentation slides online. All of them are controlled by simple touch screen is programmed by the engineer of  TTIV at the request of customers.

Multimedia Control
If your meeting room is a multi-media room, the solution can simplify the use of multimedia systems. The operation such as play music, adjust volume and media playback are manipulated via a touch screen. more so when you can use a smartphone to control music playing or turn on a movie.