TTIV is the leading solution provider and system integrator in the field of information and communications technologies. Base on our long-experiment and technological strength, we are permitted as the official solution -product supplier together with the SERVICE CENTER for Lexmark in Vietnam.
We SELL and RENTAL a broad range of Lexmark printer like :
– Monochrome and color laser printers, Laser multifunction products,
– Inkjet all-in-one devices,
– Cartridges and services-solutions including maintenance, consulting and systems integration.
Simultaneously, our company also provide enterprise content management software products, including ImageNow document management, document imaging and workflow suite that allows users to capture, process and collaborate on important documents and information, protect data integrity throughout its life cycle, and access precise content; and industry specific workflow solutions for the healthcare, higher education, government, and financial services industries, as well as for back office functions, including accounting, human resources,contracts,and records.
Printers and MFPs
Mono chrome Laser Printers
– Black and white on paper
– Only Printing
Mono chrome Laser Multifunction (MFPs)
– Black and white on paper
– Scan/Print/Copy/Fax
Color Laser Printers


– Color on paper




– Only Printing

Color Laser Multifunction (MFPs)


– Color on paper




– Scan/Print/Copy/Fax
Sustainability Benefits with the Right Features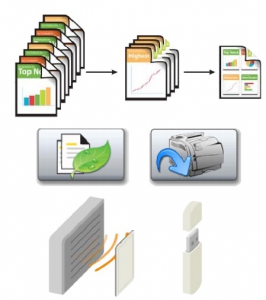 Built-in duplex

Multi-up printing

Eco-friendly papers

New Eco-Copy

Print Preview

Proof Then Print

Secure Print Release

Eco-Mode

Quiet Mode

USB Direct
AP Project Management
Lexmark Services Delivery Team

Site Discovery
Future State Proposal (validated)
Acceptance of Proposal
Change Management
Phased Implementation (3-6 months)
Six months transition from Lexmark
Account to Service Support Team
Continuous Monitoring & Performance fine-tuning
Change Management
Lexmark can help to create a Change Management Strategy that addresses the levers of change by planning with customer.
Key issues to address:
Understand cultural issues that affect an enterprise output strategy

Unwillingness to believe in the new change and perform new duties

Lack of ability to perform in new environment and thus adopt the change

Lack of knowledge about the change and why it is happening
Lexmark can help to facilitate:
Change Management Workshop

Development of an Action Plan

Development of a Communication Plan
Addressing your challenges with Lexmark MPS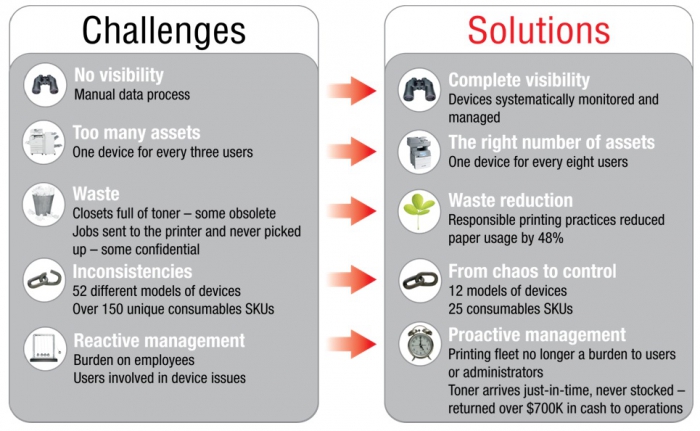 Summary of Lexmark MPS
Improved response time & accuracy

Increased reliability & uptime

Savings through bulk purchasing of HW & consumables.

Reduction of maintenance overhead

Reduce time & issue for supporting multiple printers drivers – Single Universal Drivers.

Detailed information regarding print usage and habits can be used to make more informed decisions

Scalability for future expansion of customer business
Why Lexmark?
Global experience in Optimizing Environments

Lexmark helps you to Print Less

Lexmark Tools can help Monitor, Manage, Reduce & Control your Total Cost of Output

A4/A3 MFP proposition brings customer significant TCO savings

Technology leadership with Innovative Technologies

Ease of use and user friendly GUI interface improves work productivity

Advanced solution and sophisticated features allow future enhancement & customization to your back-end systems

Scalability for future expansion of customer business
About Lexmark Company
Lexmark International, Inc. Company (NYSE: LXK) is the US Company and the heritage of IBM.

Lexmark provide businesses of all sizes with a broad range of printing and imaging products, software, solutions, and services that help customers to print less and save more.

With the leading criteria are reliability, print quality, ease of use / setup and speed as well as minimize power consumption, Lexmark reality satisfy all requirements from you and become the best solution for professors.

Perceptive Software, a stand-alone software business within Lexmark, is a leading provider of enterprise content management software that helps organizations easily manage the entire lifecycle of their documents and content, simplifying their business processes, and fueling greater operational efficiency

Nowadays, Lexmark are sold in more than 170 countries and have approximately 57% of revenue coming from International sales.